Tech Bureau, the operator of Japanese exchange platform Zaif, has confirmed it will transfer all of its cryptocurrency operations to Osaka-based financial services company Fisco by November 21.
The platform, which was the subject of a crippling USD 63 million hack in September, had recently been handed an unprecedented third business improvement order from the regulatory Financial Services Agency (FSA), and despite its initial attempts to forge ahead with customer reimbursement plans and system improvements, has instead confirmed it is throwing in the towel.
Tech Bureau announced its aim to transfer Zaif to Fisco in advance this month, however, in keeping with information outlet TSR, has now also confirmed the pass – and has introduced that customers who suffered losses inside the hack may not be capable of obtain compensation. The corporation stated, "Please be forewarned that we won't be capable of reply to [customers' compensation] requests." Fisco has formerly introduced that it'll as an alternative take over responsibilitiestowards the Zaif clients: "underneath the reputable settlement, Fisco Cryptocurrency trade shall count on customers' rights with Tech Bureau in regard to in search of a return of deposited cryptocurrency and the last cryptocurrency that changed intono longer misplaced."
Announcement by Zaif on its website: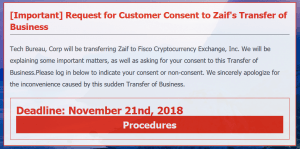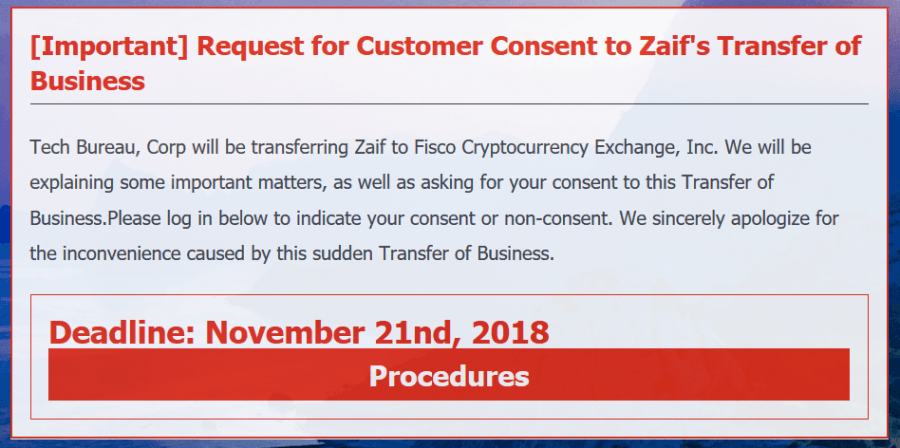 At the time of writing, trading volume for the last 24 hour at Zaif stood at USD 9 million, according to CoinMarketCap.
Top 10 markets at Zaif: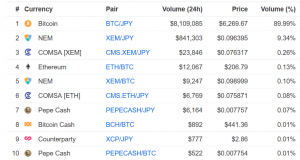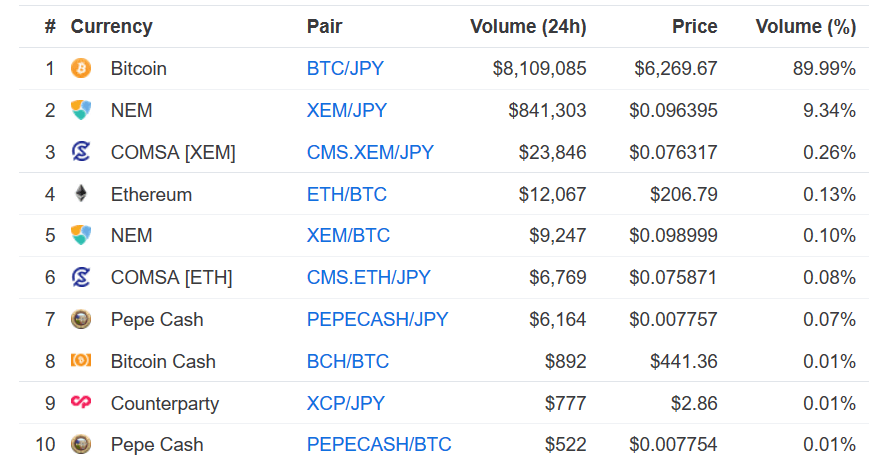 Meanwhile, the FSA yesterday approved a self-regulation request from a group of 16 licensed exchanges. The move represents a major coup for the Japan Virtual Currency Exchange Industry Association (JVCEA), who had been angling for official self-regulatory status since April this year. The association believes the move will help it rebuilt customer confidence in an industry that has been badly shaken after the damaging Zaif and Coincheck hacks earlier this year.
The terms of JVCEA's self-regulation will involve a rigorous auditing process of its members, and stringent security checks. FSA staff welcomed the news, with Reuters quoting an official stating that "industry experts will make better rules than bureaucrats." Despite the decision, however, it is believed that the FSA will retain all of its existing regulatory powers, and will be able to step in with governance measures should it feel the JVCEA is not doing enough to police its members.
[alert-note]https://cryptonews.com/news/japan-hacked-exchange-sale-confirmed-self-regulation-approve-2823.htm[/alert-note]