Thailand's regulatory Securities and Exchange Commission (SEC) has warned a new cryptocurrency exchange, backed by a "major South Korean firm," that it may be in violation of the country's recently introduced digital assets legislation.
Per Thai news outlet Lokwannee, the SEC has stated that Q Exchange has been openly advertising its services despite the fact that it has not yet obtained an operating license from the regulator – and thus may fall afoul of the Royal Decree on Digital Asset Businesses, introduced earlier this year.
The SEC also issued a warning to cryptocurrency investors in the country, stating, "We would like to inform the public that Q Exchange is not a licensed digital business operator. Investors should exercise caution when dealing […] with [Q Exchange], as [investors'] actions may not be lawfully protected by the SEC."
Q Exchange opened in Thailand in September this year. Lokwannee states that the company is a joint-venture with a "major South Korean firm," and is hoping to "open 30 branches" by the end of this year, with a view to expanding that number to 70 branches.
Under the terms of the decree, the SEC has regulatory power over cryptocurrency exchanges, which are legally prohibited from advertising their services unless they have obtained a license. The SEC gave permits to an initial seven exchanges in August this year, with scores of companies still waiting for the SEC to pass rule over their applications.
The SEC also regulates initial coin offerings (ICOs), and per the Bangkok Post, has thus far given nine ICO issuers permission to go ahead with token sales.
The regulator also advised investors in the country to check with the SEC on exchanges' legal statuses before dealing with unfamiliar platforms.
Meanwhile, another Securities and Exchange Commission, this time in the US, took action against an exchange recently, also. The move against the decentralized crypto exchange EtherDelta is a significant action by the SEC since it is its first enforcement action ever against an exchange deemed to be operating illegally.
_____
Weekly LocalBitcoins, a peer-to-peer bitcoin marketplace, volume (in bitcoin) in Thailand: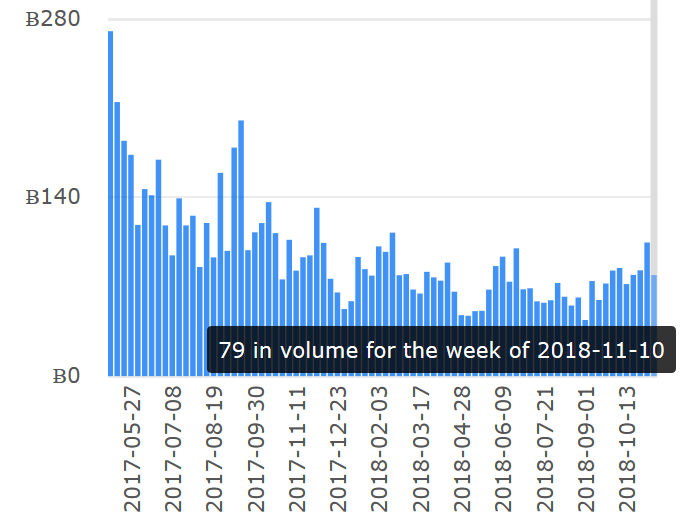 https://cryptonews.com/news/thai-sec-warns-exchange-backed-by-major-south-korean-firm-2918.htm
Don't Miss Your Investment Opportunity
More than 2500+ readers already joined. Subscribe to our free newsletter and follow us!
Thank you for subscribing.
Something went wrong.